RC.Aero-Pageant
---
The Biggest Japanese RC-AirShow!
---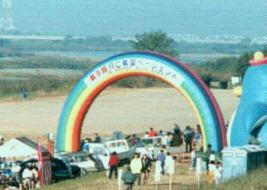 This is one of the biggest RC.Airshow in Japan!

Sponsorship :

"Ojima"Town "Gunma"prefecture (Birthplace of Nakajima Aircraft Industry ) and "Denpajickensha"company.

It is held on November 3 and about 50,000 persons enjoy every year. Almost of Japanese RC. Aero company participates. Entrance, Participation are free all. Even RC. Aero company participates as an individual. And the world championship of RC airplane is held in the previous day.
Back to Entertainment Page
Next Page
---
Produced by k.kato (C) 1996